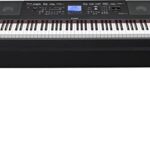 Last Updated on January 1, 2021
The Pure CF Sound Engine faithfully reproduces the tone of a meticulously sampled and highly acclaimed Yamaha concert grand piano
GHS weighted action is heavier in the low register and lighter in the high, just like an acoustic piano
Score display puts music notation of MIDI songs on the screen, helping you play your favorites by following the bouncing ball
The Piano room lets you choose from a variety of pianos and acoustic settings to create your own personal piano environment
The 6 track recorder allows you to capture your performances and song ideas, then add additional layers to spice up your pieces
Dimensions (without stand): 55″ W x 5.75″ H x 17.5″ D || Weight 46 pounds.
From the manufacturer
Yamaha DGX-660 Portable Grand
The new Yamaha DGX-660 is the latest ensemble digital piano to showcase a variety of interactive features that make learning, playing and sharing music fun for everyone. The new Piano Room feature of this Portable Grand lets you choose from a variety of pianos and acoustic settings to create your very own personal piano environment.
Yamaha keyboards are known for their versatility. Now you can connect a microphone to the instrument so you can sing along while you play, and hear your voice with digital effects through the built-in speakers. You can even record your performance to a USB device to share with your friends and family!
Just you and your music
The DGX-660 contemporary digital piano gives aspiring pianists a fun way to enhance their learning experience. Players of all abilities can feel what it's like to play with a band and sound like a pro. The built-in USB Audio Recorder captures your musical inspirations when you're ready to share your accomplishments.
Simply connect a microphone to the DGX-660 to sing along either with your playing or with pre-recorded karaoke song files from Yamaha MusicSoft. You can hear what you sound like with everything mixed perfectly together from the built-in speakers. View the lyrics on the included score display. Three convenient presets are provided for different vocal performance situations. You can even create and save your own original microphone settings, including professional reverb and chorus effects.
World class concert grand piano sound
The Pure CF Sound Engine is the result of years of piano-making history combined with state-of-the-art sampling technology and piano expertise. Yamaha is the industry leader in digital piano technology, and you can hear this in the Voices that utilize the Pure CF piano sample, including the sound of the renowned Yamaha CFIIIS 9-feet concert grand piano.
88-note weighted GHS keyboard
The Yamaha Graded Hammer Standard (GHS) keyboard features a weighted action with heavier touch in the low end and lighter touch in the high end, just like the hammers inside an acoustic piano. Great for the aspiring pianist, practicing on the GHS action builds the proper finger technique and strength for when the time comes to perform on an acoustic piano.
Easy-to-read score and lyric display
The crystal-clear LCD can be switched to score or lyric display, showing you notation for any MIDI song that the DGX-660 is playing. Read the music for your favorite built-in songs, or follow along with songs downloaded to a USB device from Yamaha MusicSoft. Even see the score for songs you've created yourself on the DGX-660!
Chords played simply to sound like a professional!
Smart Chord makes you sound like a professional pianist, even if you're just learning how to play. With a single finger on your left hand, Smart Chord will create entire chords, from simple pop triads to complex jazz 7th and 9th chords. Accompaniment Styles create the rest of your virtual band so you can get straight to playing music.
Selling Price:
See Website
Address:
Georgia
Atlanta
Georgia
United States